Office Building Solar Array
The Town of Caroline Office Building has a state-of-the art solar "photovoltaic" array, installed in March 2010.  The array turns energy from the sun into electricity, powering both the Office Building and historic Town Hall next door. The system is "net metered," meaning when it generates more electricity than needed in the buildings, it sends electricity back into the grid. NYSEG credits the Town for any power it produces, with a special "demand meter" that records energy used and generated. The system will eventually pay for itself, reducing costs to taxpayers and providing the Town a free, clean, local source of electricity for decades.
View energy data from the Town Office Building solar array!
Click on tabs to view power generation by hour, day, week, and month: Town of Caroline PV System Energy and Power Data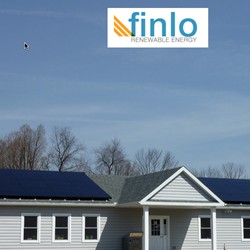 More about the Town Office Building
The Town Office Building, located at 2668 Slaterville Road next to the historic Caroline Town Hall, houses the Caroline Town Clerk, Supervisor, Code Office, Library, and records storage. The building is highly energy efficient, super-insulated, heated by the earth with a geothermal system, and will be powered by the sun by a solar electric system (to be installed this Spring).
Citizens are welcome to stop by, and experience the geothermal heating system, new library, offices, and ease of access.
The next door Town Hall will continue to house the Town Court, board and committee meetings, and the museum.